Stack Emission Control Device
Stack Emission Control Device Upto 92% PM capture as per NGT guidelines for mandatory compliance as per State PCBs. We Design, Supply, Install, commision from 125 kva upto 2500 KVA Engines , from 2 Ton Upto 8 Ton Boilers with fuel as Diesel, FO, Wood, Lignite, Coal. We have more than 100 + installations across industries such as Pharmaceuticals, Fertilizers, Specialty chemicals, Textiles, Paints, etc. All our projects have achieved the mandatory requirement of benchmark capture as set by CPCB/GPCB , the same is tested and verified by NABL / MOEF accredited reputed labs.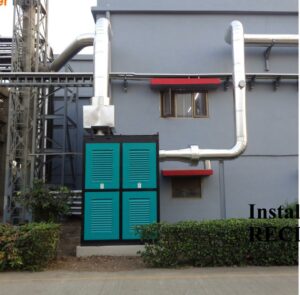 Ultra efficient technology - Can meet DPF level of efficiency for PM reduction.

No Manual Intervention – Automatic start up with DG set.

No significant backpressure - Suitable for prolonged low load operation unlike DPF.

No secondary emissions - No impact on other VOCs/ GHG.

No active regeneration required- most suitable for old mechanical FIE engines

No additional fuel required for thermal management or for working against high engine back pressure.

No Additional installations - all controls and diagnostics included in retro-fitment package.

Robust to exhaust oil traces, particularly an issue with older and highly run engines - No fear of face plugging as in case of flow through catalysts (such as DOC) or DPFs.

No periodic ash cleaning required such as in DPF or Partial Flow Filters.

Cost effective solution
079 4009 5959, 079 2656 4444
Don't hesitate to contact us!
Mon - Sat: 10:00 - 19:00 / Closed on Sundays
602/603, Saffron Building,Near Bank of Baroda, Panchvati, Ellisbridge, Ahmedabad -
380006